Bosch PLENA Matrix: Superb Acoustic Performance with Modern Wireless Controls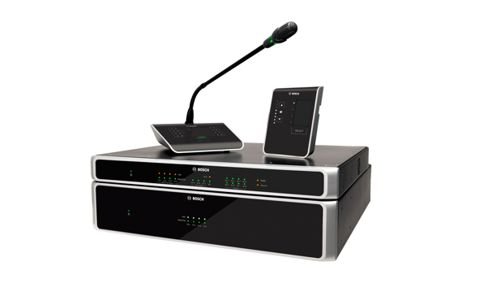 Modern premises require modern solutions. Bosch PLENA matrix Digital Sound System brings high-quality audio, wireless control capability and multi-zone coverage to your premise.
As a Bosch certified installer and provider in Pakistan, The Protechtors team recommend the flexible Bosch PLENA matrix for contemporary facilities like gyms, restaurants, retail spaces, cafés, schools, recreational and sports centers, warehouses and office buildings. These facilities can benefit from the system's wireless control options.
Our certified team of survey and sales engineers can help you implement a cost-effective solution that will be easy to manage and maintain.
PLENA Matrix: Flexibility and Reliability for the Future
Bosch PLENA matrix Digital Sound System was engineered with precision to provide Bosch's optimum audio performance with modern capabilities. Its advanced design ensures your premise will be ready for the future.
With PLENA Matrix, Bosch puts the 8×8 matrix with full-featured DSP capabilities at your fingertips. The versatile and powerful controls make this system a great choice for facilities that need easy-to-use solutions. Our team of Bosch Certified engineers at The Protechtors are knowledgeable in every aspect of this elegant system. We can help you set up the PLENA matrix environment to take advantage of all the great innovations this system brings to the table.
Versatility and High-Quality Performance: The Protechtors team understands your need to have a flexible system that you can easily maneuver for multiple purposes across multiple zones. We will help you setup your Bosch PLENA matrix to take advantage of its best-in-class audio quality across every corner of your facility.
Multi-Zone Wireless Controls: The wireless controls bring a level of unparalleled sophistication to this system. Our team of engineers at the Protechtors will help you set up your iPad or iPhone apps. These apps give you the freedom to walk yourself into a audio zone and remotely adjust the parameters of your sound system. With the PLM 8M8 PLENA matrix 8-channel DSP Matrix Processor, you have total control over the sound in a live, high-traffic environment.
Cost-Effective for the Future: Bosch understands the need for tomorrow's technology. So Bosch PLENA matrix is designed to meet your cost-saving and environmental goals. The PLENA matrix Class D Amplifiers has built-in Auto Standby mode. The Protechtors' team can help you install motion sensors to monitor crowds in targeted zones. The motions sensors will activate the Amplifier Standby mode for unoccupied areas. It can lead to 80% cost-savings compared to standard amplifier installations.
The superior design of the Bosch PLENA matrix Digital Sound System makes it flexible, efficient and easy-to-use. Its quality components make it stand out from any system in the market.
Easy Configuration: PLENA matrix has a single-cable system. It also has an 'Amp Link' feature. Through daisy-chaining the operating nodes, The Protechtors' engineers can install the PLENA matrix fast and efficiently.
Mobile Controls: The system comes with an iOS app that is optimized for iPads and iPhones. With this app, you can control, adjust, and mix levels from any zone of your multi-zoned facility. It also gives you the versatility to play music and make announcements simultaneously.
Powerful DSP Capability: PLM 8M8 PLENA matrix 8-channel DSP Matrix Processor is a powerful chipset that helps you control this system. The graphic user interface makes it easy to understand the capabilities of the presets and custom settings.
High-Quality Sound: Both input and output sound quality are improved through the use of multi-band equalizing and dynamic range compression. Other features include gain control, filtering, delay and limiting. The real-time 8-channel input capability makes it a powerful sound mixing machine.
Lower Power Cost: Bosch's motion sensors can detect the absence of crowd and send PLENA Amplifiers into "Auto-Standby" mode. This intelligent software and hardware design reduces power usage, extends amplifier life, and saves you money.
8-channel DSP Matrix Processor
Graphical User Interface (GUI) for Windows and iOS platforms
Simple Cabling for easy installation
High-quality acoustic capabilities
Input mixing and zone level control
Selection of background music source
Phantom power
HPF, Pad
Input Dynamic Range Compression
Input (5 bands) and output (7 Bands) parametric EQ
Bosch speaker library
Output assignment
Output dynamic range compressor
Crossover, delay, limiter
Zone output level controller, priority
Call station zone groups and announcement priorities
Chimes
Ducking levels
Override and tone set up
Password protection, tailored user, and zone set up
Fault and thermal monitoring
Channel mute and system mute
Dynamic bass enhancement
Auto and manual standby mode 
The Protechtors' Guarantee
The Protechtors is an experienced security and surveillance expert. We have been serving major cities of Pakistan since 2007. Our mission is to provide you with the best technology to protect you. With Bosch PLENA matrix, we believe that we are providing you with a versatile solution for your high-traffic environment. Its energy-efficient capabilities will save you money and last you for a long time. Our certified engineers are ready to discuss your requirements and design a custom solution for you.
The sooner you act, the sooner we can help you improve your sound system operations. Call us at 051-11 11 BOSCH to talk to an expert today.