Bosch DICENTIS Wireless Conference System: Integrating Flexibility with Quality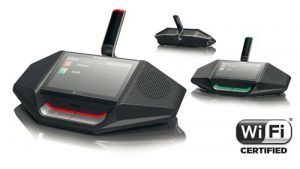 Resource sharing is a common practice in today's competitive market. Whether you are sharing rooms across businesses or across departments, Bosch DICENTIS Wireless Conference System can provide you the flexibility of an easy-setup at a moment's notice. Its interference-free wireless capability brings the best of Bosch's sound to your conference rooms.
As Bosch certified installer and provider in Pakistan, the Protechtors team recommends the flexible Bosch DICENTIS Wireless Conference System for your multi-purpose rooms. It will give you the ability to move installations easily or use preset configurations for various events.
Our certified team of experts and engineers can help you through the whole process of acquisition, setup, and operation.
DICENTIS Wireless Conference System: No Cables
With DICENTIS Wireless Conference System, there are no cables and drilled holes. Whether you are renting your venue long-term or short-term, this system can provide you an easy to transport solution.
Seamless Wi-Fi Integration: The system supports IEEE 802.11n wireless standard. It operates in both 2.4 and 5 GHz bandwidth. Other Wi-Fi access points can recognize the DICENTIS Wireless Access Point (WAP) and avoid channel conflicts.
Interference-free Wireless Sound: Smart Wireless Management allows the system to route traffic to free channels and maintain the quality of sound during busy conditions.
Touch-screen with Built-In Near Field Communication (NFC) Reader: Each device comes with a built-in 4.3-inch touch-screen and an NFC reader that can be programmed for voting and identification with NFC cards. You can also upload your company logo to the touch screen.
Wireless Redundancy Support: Losing wireless connectivity during an important meeting can be disastrous. The system allows two WAP setups. The redundancy ensures reliable connectivity and safe fail-over.
OMNEO-ready for DICENTIS Conferencing System: OMNEO is Bosch's proprietary architecture. This system is OMNEO-ready which means it can communicate with other Bosch-family of conferencing devices and become part of a larger installation.
Options for Wireless Device and Wireless Device Extended
Highly secure WPA2 encryption for all wireless signals
Supports up to 6 Bosch HD Conference Dome Cameras
Built-in web browser provides extended functionalities
WAP-based wireless direct access using tablet or laptop without additional router
Advanced audio processing provides great acoustic quality
Intelligent Digital Acoustic Feedback Suppression (DAFS) provides speech intelligibility at higher volumes
Continuous audio delivered through compensating lost packets using Bosch's unique technology
The system is designed for easy operability, transportation, and setup. With DICENTIS Wireless Conference System, you will get the following benefits:
Standardized Wi-Fi implementation guarantees compatibility with current Wi-Fi networks
Zero audio interference due to Packet Loss Concealment, seamless frequency switching, and Smart Wireless Management
Wireless WAP redundancy for transmission continuity
WPA2 encryption means Government grade security
User-friendly touch-screen user interface
OMNEO compatibility for future expansion
Devices are easily configurable to serve as chairperson or delegate device
Superb sound provides a face-to-face meeting quality
Built-in DAFS system
NFC cards can be used for easy identification
Lithium-ion battery provides long-life support and they are fast charging
The Protechtors' Guarantee
The Protechtors is an experienced security and surveillance expert. We have been serving major cities of Pakistan since 2007. Our mission is to provide you with the best technology to protect you. With DICENTIS Wireless Conference System, we believe that you will get more out of your facility. Our certified engineers and sales associates can help you determine the cost-saving potential of this system.
The sooner you act, the sooner we can help you make your venue more adaptable to changing business needs. Call us at 051-11-11-BOSCH to talk to an expert today.