Bosch CCS 1000 D Digital Discussion System: Compactness Meets Versatility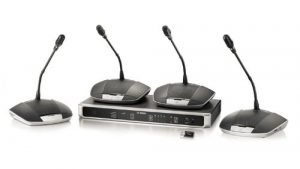 Efficient meetings require an efficient discussion system. Bosch CCS 1000 D Digital Discussion System is compact, easy-to-use, and versatile with exceptional modern features.
As a Bosch certified installer and provider in Pakistan, the Protechtors team is an expert in the field of high-end cost-effective discussion systems. Bosch CCS 1000 D Digital Discussion System is one of the best-in-class options that will perfectly serve small-to-medium-scale meeting areas. Town halls, local business centers, and courtrooms are great candidates for this elegant solution.
Our certified team of survey and sales engineers can help you find the most cost-effective way to implement this system in your venue.
CCS 1000 D: Increased Meeting Productivity
With CCS 1000 D Discussion System, Bosch has created an optimized control and discussion mechanism. The system provides flexibility, reliability, and cost savings at a high-quality of service.
The Protechtors team recommends Bosch CCS 1000 D for its sound clarity, superior control, and energy savings. Bosch's 100 years of experience has enabled such an elegant design.
Speech Clarity: Bosch's advanced audio processing and superior input and output components deliver clear speech even in a large meeting environment. Built-in Digital Acoustic Feedback Suppression (DAFS) ensures there is no microphone howling effect. The microphones and loudspeakers activate synchronously to deliver a more face-to-face feeling to the sound quality.
Superior Control: CCS 1000 D control unit stands at the center of the system. A chairperson can control the system using the display panel of the control unit or connect it to a laptop, tablet or PC and control it from there. It allows a maximum of 10 microphone connections.
Internal and External Recording Coverage: The system can record and playback 4,000 hours of audio on a single 128GB USB stick. Also, it has internal memory to record up to eight hours of discussion. Your discussion data is safe with this system.
HD Support: CCS 1000 D supports HD cameras out-of-the-box. You can connect up to six cameras that will track active speakers and provide HD quality videos.
 Energy Efficiency: CCS 1000 D control panel has built-in inactivity detector that can automatically power down the system after a 2-hour inactivity period.
Discussion Unit
Enables participants to speak and listen to the proceedings
Can be used either as participant or chairperson device
Enables chairperson to mute microphones of participants
"Possible-To-Speak" indicator
"Request-To-Speak" indicator
Cable lock facility
GSM immune
Built-in loudspeaker
Microphone: with mic-LED indicators, flexible stem (either 38 or 48 cm length)
Headphone socket with built-in volume control
Control Unit
Supplies power to all system elements – up to 80 Discussion Devices per Control Unit
Intuitive control of microphone operating mode and loudspeaker volume via front panel capacitive buttons
Advanced configuration and control via built-in web browser and tablet
Native support for automatic HD camera control
Internal recording for up to eight hours
External recording via USB up to 128 GB (>4,000 hours)
Built-in Digital Acoustic Feedback Suppression (DAFS)
Optimized for courtroom usage with four individual microphone outputs
Built-in loudspeaker and headphone socket for monitoring the proceedings.
Energy saving mode for cost minimization and prolonged lifetime
The system is a great choice for any organization looking for:
Compactness:  "Daisy chain" connections between the control unit and microphones make it a compact and easy-to-install system.
Versatility: The control unit works as a hub for laptop or tablet connections. It can be connected to display devices to show live video. The system can record and play long audio feeds.
Reliability: Bosch uses high-quality materials and components in its products that go through an extensive quality assurance process. It guarantees a long-lasting, low-maintenance system.
Extendability: The system capabilities can be extended through connecting to interpretation, language distribution, and public address equipment.
The Protechtors' Guarantee
The Protechtors is an experienced security and surveillance expert. We have been serving major cities of Pakistan since 2007. Our mission is to provide you with the best technology to protect you. With Bosch CCS 1000 D Discussion System, you can improve the efficacy of discussions in your organization with audio and video. Our certified engineers are ready to help you meet your needs.
The sooner you act, the sooner we can help you implement this world-class discussion system in your venue. Call us at 051-11-11-BOSCH to talk to an expert today.